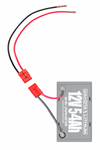 Dakota Lithium Connect-Ease 12 Volt Trolling Motor Connection Kit
Connect-Ease trolling motor connection kits makes it easy for you to connect, disconnect, store and charge your Dakota Lithium deep cycle batteries. Add on to any 12V battery. Also available with on-board charging connections.
Please note, this product is built to order by Connect-Ease and ships separately from their shop in Minnesota.
You can return any item to us within 10 days of receiving your purchase. The item must be unused and undamaged. The buyer is responsible for all return shipping costs.
To save on shipping costs, you are welcome to bring the item right back to our factory store in Fletcher, NC. If you are interested in making a return or exchange, forward your emailed order confirmation to us at support@nativewatercraft.com with your request.
100% Money Back
Guarantee